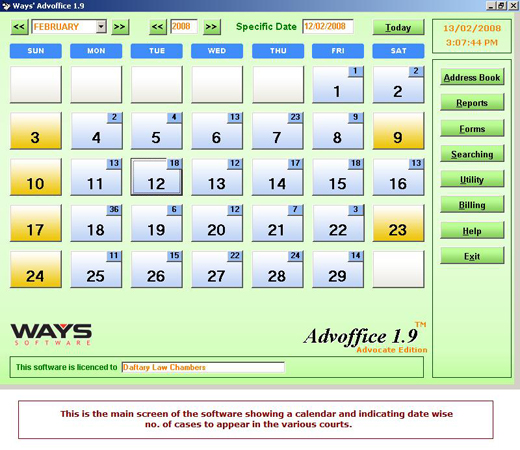 A SOFTWARE APPLICATION FOR MANAGING COURT CASES WITH ITS DATE WISE HISTORY
Advoffice is designed to organize the Corporate Head Office & its Branches, Office of Advocates, Courts or Legal Bodies of Government Institute in an efficient manner. It helps a lot to the Legal Officers or Practicing Advocates in managing their work more smartly.
Advoffice is the Legal Cases Data Management Software that maintains all the details of cases and also manages its previous date history. It manages all the cases – Area wise, Court Wise, Branch Office wise, Stage wise etc. and provide you various reports that will assist a lot in M.I.S.
Basic Features:
Maintaining Complete Details of all the cases.
Complete Board Management Software.
Maintaining Court wise Board Separately.
Automatic Maintaining Date History of all the cases.
Maintaining Date wise proceeding of all the cases.
Various M.I.S. Reports Generation.
Maintaining Undated Register.
Maintaining Next Board Register.
Disposal Register.
Advantage
THIS SOFTWARE IS GENERATING MANY REPORTS LIKE:
Daily Board
Total List of all cases between specified Date Range.
Court wise List of Cases.
Stage wise List of Cases.
Case Type wise List of Cases.
Advocate wise List of Cases.
Client wise List of Cases.
Claim Amount wise List of Cases.
Opposite Party / Opposite Advocate wise List of Cases.
And COMBINATIONS OF ABOVE ALL.
For Example : Total List of all the cases between date 01-Jan-2009 and 31-Jan-2009 of FTC Court No. 5 of Opponent "Oriental Insurance Co." and having claim amount between Rs.1,00,000/= and Rs.2,00,000/= and currently on Stage Evidence.
Where to used?
More than 350 Advocates, Law Firms etc. across the India.
Bajaj Allianz General Insurance Company for its Legal Dept. & All Branches across the India.
District Courts – Rajkot Dist. Court, Vadodara Dist. Court
Tribunals – Guj. State Co-Op. Tribunal, Guj. VAT Tribunal
District Govt. Pleader Office, Public Prosecutors Office
Various Municipal Corporation for its Legal Dept.
Various Corporate Companies for its Legal Dept.
And Many More….